MyCaseBuilder Photo Tracer
As long as you can take a digital photo of your item, you can make a perfect custom shape for it with MyCaseBuilder's Photo Tracer utility. Just look for the Photo Tracer button at the top of the design application
There are three simple steps to turning your photo into an accurate shape in your MyCaseBuilder design:
UPLOAD, TRACE, and SCALE
.
(1) UPLOAD:
Click to BROWSE button to upload a photo from your computer. The Photo Tracer accepts JPG, GIF and PNG formats. Once you find and click on your photo, click OPEN to upload.

CLICK HERE for instructions on taking
the perfect Photo Tracer ready picture.
CLICK HERE to hide photo instructions.
TIP
: If you have an item that is tall, you must rotate your photo by 90 degrees so that the item's longest dimension is left-to-right. This will ensure accurate scaling.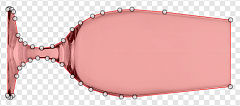 Example: A tall item that has been rotated for proper scaling.
(2) TRACE:
If your PNG or GIF is transparent, and there is only one shape contained in the image, your image will be auto-traced by the program -- use the Threshold slider to change the resolution of tracing. A lower threshold will create more points while a higher one will create less. NOTE: The more points in your shape's tracing, the longer it will take to render in 3D. We've found that a threshold between 5 and 6 works well for most shapes.
TIP
: Want to transform your JPG into a PNG to activate auto-tracing?
CLICK HERE to go to www.pixlr.com/editor (opens in new tab).
Click Open image from computer and find your image. Be sure it has a white or light colored background.
On the right, find the Layers menu. Double-click the lock icon on the Background layer to change it to "Layer 0". (NOTE: If you don't see the lock icon, click the top of Layers header and drag the box to the left.)
Press W on your keyboard to activate the Magic Wand tool and click anywhere on the white background that is to be removed.
Press DELETE on your keyboard to remove the background.
Press CTRL + S on your keyboard to save your image -- be sure to choose "PNG" from the Format menu.
In all other circumstances, tracing is done using point-to-point lines -- connect your traced line to the starting point to close your shape.
| | |
| --- | --- |
| Example: A transparent image that has been auto-traced by the program. | Example: A non-transparent image that requires manual tracing. |
Click NEXT to proceed.
Once your shape is complete, you may then fine-tune it. Click the Move Points button to adjust existing points. Click the Add Points button to create new points. Click the Delete Points button to remove unnecessary points.
Click NEXT when finished.
(3) SCALE:
To ensure your shape is the correct size, you will need to measure it's length (from left to right) and it's thickness (depth) to the closest 1/16". The more accurate your measurements, the more precise your shape's outline and depth will be. Enter these two measurements into the appropriate fields.

CLICK HERE for instructions on measuring
your item for perfect scaling.
CLICK HERE to hide scaling instructions.
Once you've got the proper measurement, click GO to add your new shape to the drawing, and you're done!